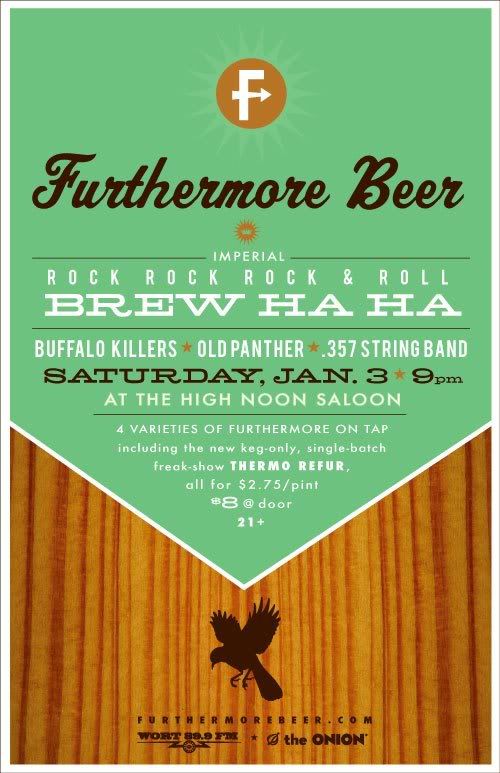 Last year,
Furthermore's Brew Ha Ha at the High Noon Saloon saw the release of Makeweight
, a Belgian-y, American-y, ale-ish sort of thing. It ushered in a great year for Furthermore that brought the release of
Oscura
to kick off the summer, in addition to the continued success of their other regular beers. And, as a side note, just to note our own prescience and as a way of hyping up next week's content -
we were right about Furthermore being one of the breweries to watch in 2008
.
But one week from tomorrow, on Saturday January 3rd, at the High Noon Saloon, Furthermore will release their next beer. And what a doozy it is. I'll let Chris Staples, the ringmaster of the Furthermore Circus, explain:
At 10:30 or so, we will tap the inaugural keg of "Thermo Refur", a freaky Aran Madden creation involving bretanamyces, organic red beets, black pepper and some black malt for a high-alcohol, used band-aid sort of vibe. We considered "Red Menace" and "Fugly" as names, but settled for a simple cheeky anagram. We are only releasing a small quantity of this beer in kegs. We're guessing it's not going to be for everyone (sort of like sea urchin or a root canal), so there will also be three other varieties of Furthermore on tap.
OK, Furthermore and black pepper, check - good stuff, can't go wrong with a proven favorite. But from there, the imagined taste sensation just takes off into WTF-land.
Black malt. Black malt. Black malt. Deeply roasted. Burnt. Earthy. Coffee-like. Bitter chocolates. Okay. I can wrap my mind around that. Add some pepper and it's tasting a little like Queens of the Stone Age - dark and heavy riffs that just take you deeper.
Organic Red Beets. Let me repeat that, for those of you who think you didn't read that right the first two times. Organic Red Beets. Red f-ing Beets. Now. This is interesting, because I hate beets. Hate beets. There is no part of my palate that even feigns to tolerate them. Yet, here they are. In a beer. Is this the first commercial beer to ever use beets? Not beet sugar. Beets. The sugar content, like the
traditional
Belgian candi sugar, should throw the sweetness and alcohol into the stratosphere. Like a ripping violin arpeggio on top of the menacing thunder of black malts and pepper.
Who knows what the earthy, soft, scab-like flavor of the beet will actually impart. Although, Chris hints at it when he mentions the "used band-aid sort of vibe." Now, if that's not something to entice you...
Brettanamyces
. Sorry to correct your spelling there Chris. The wee little beasty charged with turning your beer sour. Lambic/geuze, oud brun, and flanders reds all use this peculiar and notoriously unpredictable yeast strain to impart sourness. So, that thundering black malt and black pepper, that stratospheric violin of beets; yeah, play those in a minor chord.
Given that new brett beers can be a little harsh, is there an oak-aged version sitting around somewhere? Will we have an oak-aged Thermo Refur in three years? The possibilities are tantalizing.
Oh. And the name. "Thermo Refur" - a nice throw to Lake Louie's "Liquid Reefer" which we all know and love as "Louie's Reserve" - and slyly put, to fool the labeling nazis, as an anagram of Furthermore.
So head on out to the High Noon on January 3 and take part in one of the very few opportunities you'll have to get this stuff on tap. At $2.75 you'll be able to figure out whether it's more "used Band Aid" or
Beet
hoven.